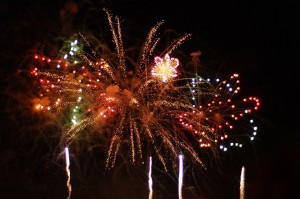 Locals always know the best places, but tourists might want to know where the best (and worst) places to watch Thunder over Louisville. Thankfully, our writers have lived within a couple of miles of Churchill Downs for the past two decades. With that in mind, here is their personal list for the top places to go to watch Thunder and the areas you should avoid.
Waterfront Park
The likelihood that you can see the Kentucky Derby from Waterfront Park is excellent considering that the fireworks go off on the edge of the river. The only problem you will have with watching Thunder over Louisville from this location is the crowd and the traffic. This is why many people will come to Waterfront Park long before the event begins. It is popular for entire families to start waiting at 9AM. Despite the long wait, there will be plenty of activities going on during the day while everyone anticipates Thunder.
Downtown towers and hotels
You do not need to know residents of a high-rise apartment building in order to watch Thunder over Louisville from a rooftop. Regardless, you cannot simply show up at a skyscraper in Downtown Louisville and expect access to the roof. You can also forget about that magical parking garage that will be empty and ready for Thunder viewing. What you will find are plenty of offers online to watch Thunder over Louisville from a hotel or high-rise rooftop ticketed event. Included in the ticket prices are often deals for free food and beverages to enjoy during the fireworks.
Private Old Louisville parties
Louisville is a friendly city, and it is not uncommon for tourists to return home and tell the tale of locals that took them in and showed them the sights. Some of the best places to view Thunder over Louisville are private homes in the neighborhood south of Downtown. In many cases, businesses in Old Louisville will have semi private parties for Thunder that are open to the public as long as they RSVP.
Do not forget about Indiana
When you are a tourist, you can easily forget that Indiana is literally across the river from Louisville. This means that it is just as easy to watch Thunder over Louisville in Indiana. What is not easy is getting from Indiana to Louisville after the fireworks concludes. In other words, if you decide to take advantage of this viewpoint, do not forget to book your hotel in Indiana. One other point worth mentioning is that many of the public after parties will not be taking place in Southern Indiana after Thunder. There is also some controversy over whether or not the pedestrian bridge will be open after the 2013 Thunder over Louisville.
Certain types of Thunder boat parties are better
Some of the best pictures of fireworks come from people that are on a boat during Thunder over Louisville. Nevertheless, this method of viewing the big show is a little bit tricky. First of all, you will need to plan in advance to get a spot on a boat. Secondly, it can be difficult for the boats to get an exact position and this means that you may end up with a better view. There are many regulating patrols during this time on the Ohio River, and they may not work with the people operating your boat that are trying to get close to the action. For this reason, many people will opt for a boat that is parked in a marina for viewing Thunder over Louisville.
The five worst places to watch Thunder over Louisville
No one wants to travel all the way to Louisville and pick the worst spot to watch Thunder over Louisville. One of the main issues that you will deal with in a bad Thunder experience is the weather. Unfortunately, too many Thunder events of the past have included cloud coverage. This means that the view is not clear enough to watch from more than a mile away.
Because Mother Nature is unpredictable, you will want to avoid watching Thunder over Louisville from the Highlands, the East End or Churchill Downs. You may also deal with some disappointment if you try to watch the fireworks from one of the one-story homes in the surrounding area. Finally, if you pay a lot of money to rent an airplane to see Thunder, you may be sorely disappointed when lightning or cloud coverage cancels your flight.