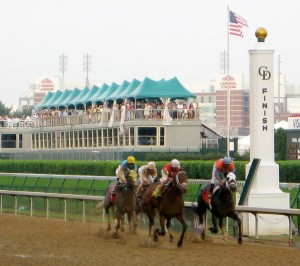 The official line-up of the 139th Kentucky Derby contenders has been announced! To give you all the latest information on racebooks and wagering, our writers have compiled all the relevant information related to the 20 participating horses and the alternative.
Check DerbyBetting.org regularly to be prepared for Kentucky Derby betting, and learn how to pick a winner before the "Run for the Roses" begins. We help you to get the best bets online and have a long list of trusted US-friendly racebooks here to keep you one step ahead.
May 4, 2013 Update: #1 Black Onyx and Alternative Fear the Kitten have been officially withdrawn from the race.
2013 Derby Contenders
| #1 – Black Onyx (Scratched) | |
| --- | --- |
| Trainer | Kelly Breen |
| Jockey | Joe Bravo |
| Owner | Sterling Racing Stables |
| Points Standing | 50 |
| Total Purse Earnings | $317,130 |
| Current Odds | Click Here |
| Pedigree | Rock Hard Ten, Kalahari Cat |
| #2 – Oxbow | |
| --- | --- |
| Trainer | D. Wayne Lukas |
| Jockey | Gary Stevens |
| Owner | Bluegrass Hall |
| Points Standing | 36 |
| Total Purse Earnings | $346,000 |
| Current Odds (25-1) | Click Here |
| Pedigree | Awesome Again, Tizamazing |
| #3 – Revolutionary | |
| --- | --- |
| Trainer | Todd Pletcher |
| Jockey | Calvin Borel |
| Owner | WinStar Farm |
| Points Standing | 110 |
| Total Purse Earnings | $720,000 |
| Current Odds (5-1) | Click Here |
| Pedigree | War Pass, Runup The Colors |
| #4 – Golden Soul | |
| --- | --- |
| Trainer | Dallas Stewart |
| Jockey | Robby Albarado |
| Owner | Charles E. Fipke |
| Points Standing | 14 |
| Total Purse Earnings | $84,000 |
| Current Odds (31-1) | Click Here |
| Pedigree | Perfect Soul, Hollywood Gold |
| #5 – Normandy Invasion | |
| --- | --- |
| Trainer | Chad Brown |
| Jockey | Javier Castellano |
| Owner | Fox Hill Farms |
| Points Standing | 44 |
| Total Purse Earnings | $258,000 |
| Current Odds (7-1) | Click Here |
| Pedigree | Tapit, Boston Lady |
| #6 – Mylute | |
| --- | --- |
| Trainer | Tom Amoss |
| Jockey | Rosie Napravnik |
| Owner | Gold Mark Farm, Whisper Hill Farm |
| Points Standing | 42 |
| Total Purse Earnings | $363,365 |
| Current Odds (13-1) | Click Here |
| Pedigree | Midnight Lute, Stage Stop |
| #7 – Giant Finish | |
| --- | --- |
| Trainer | Tony Dutrow |
| Jockey | Jose Espinoza |
| Owner | Sunrise Stables |
| Points Standing | 10 |
| Total Purse Earnings | $67,650 |
| Current Odds (39-1) | Click Here |
| Pedigree | Frost Giant, Apocalyptic |
| #8 – Goldencents | |
| --- | --- |
| Trainer | Doug O'Neill |
| Jockey | Kevin Krigger |
| Owner | Dave Kenney, W.C. Racing |
| Points Standing | 129 |
| Total Purse Earnings | $1,208,000 |
| Current Odds (6-1) | Click Here |
| Pedigree | Into Mischief, Golden Works |
| #9 – Overanalyze | |
| --- | --- |
| Trainer | Todd Pletcher |
| Jockey | Rafael Bejarano |
| Owner | Repole Stable |
| Points Standing | 110 |
| Total Purse Earnings | $908,831 |
| Current Odds (14-1) | Click Here |
| Pedigree | Dixie Union, Unacloud |
| #10 – Palace Malice | |
| --- | --- |
| Trainer | Todd Pletcher |
| Jockey | Mike Smith |
| Owner | Dogwood Stable |
| Points Standing | 50 |
| Total Purse Earnings | $200,000 |
| Current Odds (24-1) | Click Here |
| Pedigree | Curlin, Palace Rumor |
| #11 – Lines of Battle | |
| --- | --- |
| Trainer | Aiden O'Brien |
| Jockey | Ryan Moore |
| Owner | Joseph Allen, Susan Magnier, Derrick Smith, Michael Tabor |
| Points Standing | 100 |
| Total Purse Earnings | $1,261,089 |
| Current Odds (33-1) | Click Here |
| Pedigree | War Front, Starry Dreamer |
| #12 – Itsmyluckyday | |
| --- | --- |
| Trainer | Edward Plesa Jr. |
| Jockey | Elvis Trujillo |
| Owner | Laurie Plesa, Trilogy Stables |
| Points Standing | 50 |
| Total Purse Earnings | $593,600 |
| Current Odds (9-1) | Click Here |
| Pedigree | Lawyer Ron, Viva La Slew |
| #13 – Falling Sky | |
| --- | --- |
| Trainer | John Terranova |
| Jockey | Luis Saez |
| Owner | Newtown Anner Stud, Covello, James and Bulger, Joseph |
| Points Standing | 30 |
| Total Purse Earnings | $207,500 |
| Current Odds (39-1) | Click Here |
| Pedigree | Lion Heart, Sea Dragoness |
| #14 – Verrazano | |
| --- | --- |
| Trainer | Todd Pletcher |
| Jockey | John Velazquez |
| Owner | Susan Magnier, Derrick Smith, Michael B. Tabor, Let's Go Stable |
| Points Standing | 150 |
| Total Purse Earnings | $810,000 |
| Current Odds (9-1) | Click Here |
| Pedigree | More Than Ready, Enchanted Rock |
| #15 – Charming Kitten | |
| --- | --- |
| Trainer | Todd Pletcher |
| Jockey | Edgar Prado |
| Owner | Kenneth and Sarah Ramsey |
| Points Standing | 20 |
| Total Purse Earnings | $206,000 |
| Current Odds (29-1) | Click Here |
| Pedigree | Kitten's Joy, Iteration |
| #16 – Orb | |
| --- | --- |
| Trainer | Shug McGaughey |
| Jockey | Joel Rosario |
| Owner | Phipps Stable and Stuart Janney III |
| Points Standing | 150 |
| Total Purse Earnings | $840,000 |
| Current Odds (7-1) | Click Here |
| Pedigree | Malibu Moon, Lady Liberty |
| #17 – Will Take Charge | |
| --- | --- |
| Trainer | D. Wayne Lukas |
| Jockey | Jon Court |
| Owner | Willis Horton |
| Points Standing | 60 |
| Total Purse Earnings | $512,971 |
| Current Odds (30-1) | Click Here |
| Pedigree | Unbridleds Song, Take Charge Lady |
| #18 – Frac Daddy | |
| --- | --- |
| Trainer | Kenny  McPeek |
| Jockey | Victor Lebron |
| Owner | Magic City Thoroughbred Partners |
| Points Standing | 44 |
| Total Purse Earnings | $240,596 |
| Current Odds (23-1) |  Click Here |
| Pedigree | Scat Daddy, Skipper's Mate |
| #19 – Javas War | |
| --- | --- |
| Trainer | Kenny McPeek |
| Jockey | Julien Leparoux |
| Owner | Charles Fipke |
| Points Standing | 122 |
| Total Purse Earnings | $651,772 |
| Current Odds(22-1) | Click Here |
| Pedigree | War Pass, Java |
| #20 – Vyjack | |
| --- | --- |
| Trainer | Rudy Rodriguez |
| Jockey | Garrett Gomez |
| Owner | Pick Six Racing |
| Points Standing | 70 |
| Total Purse Earnings | $505,000 |
| Current Odds (36-1) | Click Here |
| Pedigree | Into Mischief, Life Happened |