The Kentucky Derby is primarily about placing bets for money, but it is also a good way to participate in other types of betting events. For example, you can still do your own handicapping without betting for money. You can also throw a party for fans excited about doing their handicapping research to predict a Kentucky Derby winner. Between the two extremes of betting and not betting, there are five ways to place a horse racing bet for the Kentucky Derby 2013.
5. Formal online free games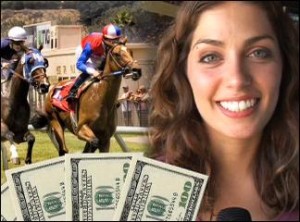 Each year you can count on advertisers to invent Kentucky Derby-related games that awards you prizes. Due to the strict gambling laws in the United States, most of these free online Kentucky Derby games do not include cash. Instead, there are prizes that are usually awarded to registered users in a lottery-style system. If you want to tests your handicapping skills, these free online Derby games may not be what you are looking for.
4. Start your own free Kentucky Derby game
No one wants to get accused of being a bookie, but there are several ways to bet on the Kentucky Derby at home with your friends. As long as no money is formally collected, you are welcome to create a competition with your friends about which horse will win the 2013 Kentucky Derby. In fact, many Louisville residents hold these types of parties each year and award prizes to the first place winner. For those party-goers that want to bet for money, most will access an online gambling account that accepts wagers for the Kentucky Derby.
3. Charity fundraising handicapping party
Do you support a charity that is always looking for a good fundraiser? Depending on the city that you live in, you can start your own Kentucky Derby game for charity that awards real cash prizes to amateur handicappers. However, one of the best ways to follow the rules is to keep a Kentucky Derby theme, throw a Derby hat party, and offer a cash raffle for a prize.
2. Placing your bet offline at Churchill Downs
Do you have tickets to the 2013 Kentucky Derby? Naturally, ticket holders will be able to place a bet in person at the Churchill Downs facility the day of the big event. Regardless, betting offline at Churchill Downs may not be the experience you were expecting. In the past, placing a bet meant standing in line to give money to a teller. After you placed a wager, they would give you a betting slip. Today, one of the most common ways to place a bet at Churchill Downs is with the ATM-style wagering machines. This is especially popular with anyone that wants a printed out betting slip as a souvenir. One of the disadvantages to this style of offline betting is not being able to change your bet quickly.
1. Online Kentucky Derby bets are the best option
If you have a smartphone or a laptop, you have all the tools you need to place a Kentucky Derby bet online this year. Although most gamblers will wait until the day of the race, it is best to set up an online betting account in advance. After all, you do a lot of work to figure out which horse is most likely to win. In other words, it would undoubtedly be unfortunate if your credit card had trouble on the day you finally decided to place your Kentucky Derby bet. More often than not, you can avoid this type of stress by opening your account at least a week in advance and placing a test bet on a current horse racing event.