News headlines from the month before the 2013 Kentucky Derby are proving to be just as thrilling as the race itself. Most importantly, the contenders list is beginning to shape up with only seven wins left in the Kentucky Derby prep race lineup. Along with better picks from prominent odds speculators, Kentucky Derby-related news has revealed a secret to Kentucky Derby winners that every gambler must know.
Secret and unusual Kentucky Derby pick tip
Unfortunately, it can be difficult to figure out which horse will win the Kentucky Derby because too many of the variables are similar. For example, many of the top contenders from the 2013 Kentucky Derby prep race season have the same trainers or have recently used the same jockeys. Moreover, horses with bloodlines that have previous Kentucky Derby winners in their ancestry are not always a good way to discern which horse will finish in first place.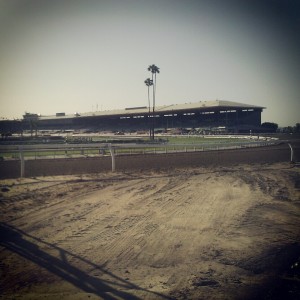 However, the Iowa Times-Republican newspaper recently reported one clear indicator that a horse is likely to win the Kentucky Derby. Although he is only 54, scientist Gary Pusillo has provided nutrition for 14 Kentucky Derby winners. This includes the 2012 Kentucky Derby winner, I'll Have Another. So far, news sources have not revealed which horses are using Pusillo for the 2013 Kentucky Derby. Nevertheless, you can expect the writers from DerbyBetting.org to reveal this potential betting tip as soon as it is leaked.
Goldencents is a 2013 Kentucky Derby contender
Although there are still seven races in the next month before the Kentucky Derby, Goldencents has secured his place in the top 20. As the winner of the 2013 Santa Anita Derby on April 6, Goldencents is destined for the contenders list, but time will tell if he is a finisher in the top three for the Kentucky Derby.
A second contender for the 2013 Derby
Horse racing headlines have been swarming with the rivalry between Vyjack and Verrazano. Bringing this tension to an end, Verrazano was triumphant and took the first place spot at the 2013 Wood Memorial on April 6. Now Verrazano joins Goldencents as part of the small group of horses that bettors can evaluate for the 2013 Kentucky Derby winners circle.
Pick experts shape up their lists
In Louisville, all local horse bettors check with Jennie Rees at the Courier-Journal for their Churchill Downs news. This year, she has joined up with nine other horse racing professionals to give their opinion on 2013 Kentucky Derby odds. The ESPN.com Top 10 Poll voters for week 7 frequently mentions Orb as a top contender.
Shanghai Bobby is feeling weird
After winning the 2012 Breeders' Cup, everyone had their eye on Shanghai Bobby. Sadly, his trainer, Todd Pletcher, has decided that he needs to be rested and will miss the 2013 Kentucky Derby. Regardless, this does not mean Shanghai Bobby is finished in 2013. Instead, he will gear up for some of the races "later in the season" — which may include the Belmont Stakes.