As one of the greatest horse racing events of the year, many fans of the Kentucky Derby show up early to enjoy the festivities that kickoff three weeks before it begins. In particular, the Chow Wagon food event held at Waterfront Park in Downtown Louisville is of paramount importance. Sponsored by the Kentucky Derby Festival, it is considered one of the best ways to preview all of the top-notch food that Louisville has to offer. For tourists, there are rare treats that include local Kentucky fare such as pulled pork, barbecued mutton, and a stew called Burgoo. To ensure they you have all of the details, tips for the 2013 Chow Wagon are listed below.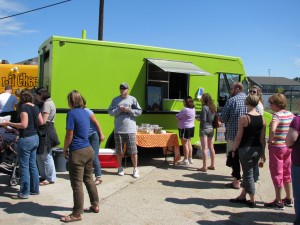 Official Chow Wagon information
Figuring out which restaurants will be participating in the Chow Wagon is always difficult. Part of the allure of the event is anticipating what you are going to eat. However, it is not all surprises and the Kentucky Derby Festival does a terrific job of posting relevant information to the 2013 Chow Wagon Facebook event page. Any official information or sudden changes are likely to be announced there first. The most valuable thing to know is that the Chow Wagon begins on Wednesday, April 24 and lasts until Friday, May 3.
Old favorites at the Kentucky Derby Chow Wagon
Throughout America, the idea of festival food is a little bit different depending on which state you are visiting. For Kentucky, you will have much more than the barbecue and Burgoo specialties that are frequently listed in association with the Chow Wagon. By gleaning information from photographs of past years, it is safe to assume that you will see plenty of funnel cakes and fried butter at the 2013 Chow Wagon.
Special food guests at the Chow Wagon
If you attended the Chow Wagon last year, you probably noticed that there were a large number of notable Louisville food-related guests at the event. For example, Louisville is the place where Bigelow Tea is manufactured, and they usually make a distinct point of showing up at the Chow Wagon. While there are few announcements in advance about freebies, samples, and coupons, do not be surprised if you leave the Chow Wagon with a few extra smiles.
The 2013 Chow Wagon Fest-A-Ville Music Series
Thanks to sponsorship by Kroger's and Miller Light, the Chow Wagon is able to host music concerts at Waterfront Park. The music begins on Saturday, April 27 (three days after the Chow Wagon opens) and is free of charge. This means that you can eat your food while watching live music. Most of the music events start between 7 PM and 9 PM, and there are six concerts altogether.
More Info Here: http://www.wdrb.com/story/21785375/ky-derby-festival-announces-fest-a-ville-concert-lineup
April 27 – 9 PM, Uncle Kracker
April 28 – 7 PM, Christian Contemporary Concert
April 29 – No show (Monday)
April 30 – 9 PM, RhythmFest with Cameo
May 1 – 7 PM, Wild Wednesday with The Features
May 2 – 9 PM, The Wallflowers
May 3 – 8:30 PM, Surprise Country Music Superstar Concert
A few final pieces of Chow Wagon advice
The Chow Wagon is open from 11 AM to 11 PM every day except Sunday. Sunday hours are 1 PM to 11 PM.
You need to have a 2013 Pegasus Pin to enter the Chow Wagon area.
With the exception of service animals, pets are not allowed in the Chow Wagon area.
Do not bring your own food or drinks into the Chow Wagon or Fest-A-Ville areas.