The 2013 Kentucky Derby Favorites Are In Sight
The end of the 2013 Arkansas Derby and the Bluegrass Stakes on Saturday, April 13 means that the world has a pretty good idea of who is going to be on the 2013 Kentucky Derby contenders list! Now that the points have been tallied, the top 20 horses appear to be firmly locked in for May 4, 2013. This means horse betting fans can start serious handicapping and making their own decisions about which horses are the favorites.
Here is an overview of what you missed, who had to drop out, and why your bet depends on watching the two remaining Wild Card races.
Remember, the remaining 2013 Wild Card Kentucky Derby races will take place on:
April 20 – Lexington Stakes, Keeneland Racetrack in Lexington, KY
April 27 – (Cliff's Edge) Derby Trial, Churchill Downs in Louisville, KY
May 4 – Kentucky Derby, Churchill Downs in Louisville, KY
Should you bother watching the Wild Card races?
The only races that Kentucky Derby horses can earn points for are the Wild Card races. Unlike the Arkansas Derby and Bluegrass Stakes, contenders will not earn 100 points for first place. Instead, they can only earn 20 points for first place, 8 for third, 4 for second, and 2 for fourth place. Regardless of the low point earnings keep in mind that the two remaining races are notable for two particularly good reasons.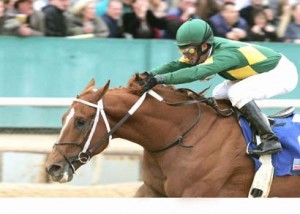 First of all, watching the Derby Trial at Churchill Downs on April 27 means you get to see the top points earners in action on the track. It is essentially like watching a preview of the upcoming 2013 Kentucky Derby. This is fantastic news for bettors that want to tighten up their predictions.
Secondly, the contenders list for the 2013 Kentucky Derby is not set in stone. Instead, there are five horses with 20 points each that are looking to land in the top 20. Obviously, a single horse that currently has 20 points can earn 40 points in the two Wild Card races and end up over-powering Falling Sky, Super Ninety Nine, Uncaptured, or Oxbow.
Horses that you should keep your eye on are:
Merit Man: 20, Bob Hess, Jr.
Charming Kitten: 20, Todd Pletcher
Den's Legacy: 20, Bob Baffert, Garrett Gomez
Departing: 20, Al Stall, Jr.
Code West : 20, Bob Baffert, Martin Garcia
West Hills Giant: 20, John Terranova, Jose Espinoza
Three horses drop out of the top 20
In the past two weeks, three hopefuls threw in the towel after competing over the last eight months in the 2012-2013 Kentucky Derby prep season. Although they earned enough points to be in the top 20, injuries have them sidelined. Naturally, they will all be missed, but some horse racing fans have had their hopes on Shanghai Bobby since he won the two-year old Juvenile Race at the 2012 Breeders' Cup in November. Other horses dropping out of the race are trainer Jerry Hollendorfer's Hear The Ghost and Bob Baffert's Flashback.
Top Kentucky Derby point earners
Are you excited to see who is currently in the running for the top 20? There have been several moves up the list in the past couple of weeks with Orb holding strong in first place with the same 150 points. However, he now has a rival with Verrazano's recent bump up.
As of April 14, 2013, the following horses have accumulated the most points:
1. Orb: 150 points, Shug McGaughey (trainer), John Velazquez (jockey)
2. Verrazano: 150, Todd Pletcher, John Velazquez
3. Goldencents: 129, Doug O'Neill, Kevin Krigger
4. Java's War: 122, Kenny McPeek, Willie Martinez
5. Overanalyze: 110, Todd Pletcher, Ramon Dominguez
6. Revolutionary: 110, Todd Pletcher, Ramon Dominguez
7. Lines of Battle: 100, Aiden O'Brien
8. Vyjack: 70, Rudy Rodriguez, Cornelio Velasquez
9. Will Take Charge: 60, D. Wayne Lukas, Jon Court
10. Itsmyluckyday: 50, Edward Plesa Jr., Paco Lopez
11. Governor Charlie: 50, Bob Baffert
12. Black Onyx: 50, Kelly Breen
Hear The Ghost: 50, Jerry Hollendorfer, Corey Nakatani*
13. Palace Malice: 50, Todd Pletcher, Rosie Napravnik
14. Normandy Invasion: 44, Chad Brown
15. Frac Daddy: 44, Doug O'Neill
16. Mylute: 42, Tom Amoss
17. Oxbow: 36, D. Wayne Lukas, Jon Court
18. Uncaptured: 30, Mark Casse, Miguel Mena
Flashback: 30, Bob Baffert, Julien Leparoux*
19. Super Ninety Nine: 30, Bob Baffert, Rafael Bejarano
20. Falling Sky: 30, John Terranova, Jose Espinoza
Shanghai Bobby: 24, Todd Pletcher, Rosie Napravnik*
*Withdrawn from the Kentucky Derby