There is a lot of focus on betting during the Kentucky Derby, but this does not mean that this is solely an adult-oriented event. Instead, kids are at the heart of Kentucky Derby celebrations all over America. To get an idea of how Kentucky annually incorporates horse racing with festivities for kids, take a look at the May 4, 2013 Kentucky Derby events below.
Kids welcome at the racetrack for the 2013 Derby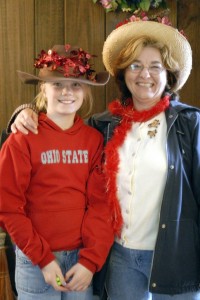 Do you live outside of Kentucky and want to take your kids to celebrate the 2013 Derby? Your city may not have an organized celebration that focuses on this event, but it is highly likely that your local racetrack does. Interestingly, Portland Meadows and Golden Gate Fields are hosting a 2013 Kentucky Derby party and children are welcome to attend. In addition to hanging out in the lounge and eating from the buffet, kids can also visit the stables and participate in child-oriented organized activities.
Frankfort Kentucky's Derby Celebration
Locals in Frankfort, Kentucky's capitol want to ensure that kids have a safe space to celebrate the Derby in 2013. For this reason, the Historic Society will host an event during The (Kentucky) Governor's Downtown Derby Celebration that will have several exhibits for kids on display. One is a mobile exhibit sponsored by Toyota called "A Kentucky Journey." This celebration will also host Hobbyhorse Races at the Old State Capitol, derby hat making for kids, carriage rides, pony rides, and give kids a chance to visit retired racing Thoroughbreds.
Louisville's pre-Derby festival events for kids
Kids in Louisville enjoy three weeks of Derby events each year that welcome them at every turn. With the exception of the marathon, all of the Kentucky Derby Festival's events have a place set aside for children. However, some of this entertainment features children as performers. For example, the Louisville Youth Orchestra performed at the Iroquois Amphitheater and children signed up to run in the Children's Marathon. Other kid-centric activities in Louisville are the "Children's Tea with the Kentucky Derby Festival Princesses" and the Great Bed Races.
Kids Zone in the Kentucky Derby Infield on Derby Day
The Kentucky Derby is well-known for the wild party that happens in the center of the track at Churchill Downs. If you watch videos recorded in the infield on Derby Day, you might feel that it is not very child-friendly. Interestingly, recent headlines confirm the fact that someone at Churchill Downs has decided to take charge of the situation and create a child-friendly Infield area.
According to the Kentucky Derby's website blog, the Infield is being divided into three parts. In one area, it will be the "Young At Heart Party" where adults can get a little buck wild without kids around. In a third area, the grassy first turn of the infield will have a picnic environment for well-supervised children and their parents.