Louisville, Kentucky and Churchill Downs are the center points of the Kentucky Derby. However, this is not the only places that Kentucky Derby parties are held. Throughout the world, there are several unique ways that the Kentucky Derby is being incorporated into a party. Interestingly, there are about five distinct takes on a 2013 Kentucky Derby party listed as events on the internet. While you may need to RSVP to be invited, most of these Kentucky Derby parties are open to the public and benefit a good cause.
Fundraising Derby Day at your local racetrack
If you want to experience the excitement of the Kentucky Derby with other horse racing fans, check with your local racetrack. For instance, Finger Lakes Casino and Racetrack in Farmington, New York will be hosting a four-course buffet with live music and contests for the best Derby hats. It is a ticketed event and all of the proceeds go to a local nonprofit called the Thompson Guild.
Glitz and glamour Derby party tickets
Instead of waiting for one of your friends to throw a Kentucky Derby party, you can pay to attend a lavish event far outside of Louisville. While there is a Churchill Downs theme at all of these events hosted by Shindigz, the real focus is betting and watching the race in the lap of luxury. Shindigz will be hosting parties with southern cuisine, mint juleps, and contests in Louisville, Denver, Lexington, New Orleans, Reno, and other US cities.
Throw a Derby party for charity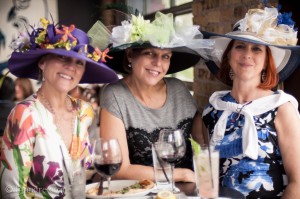 Having a Churchill Downs-themed party is a magnificent way to gather people together to raise money for a charity. The Naugatuck Woman's Club is using the 2013 Kentucky Derby to do exactly that. Based in Connecticut, this group is a good example of how you can create an event for charity based upon the Kentucky Derby in your own community. The club is charging a fee for a Kentucky Derby-themed luncheon that will fund local charity projects such as the food bank and scholarships for high school seniors. To draw in a crowd, club members are dressed as jockeys for a funny mock horse race. They also have a raffle and give prizes for the best Kentucky Derby hats.
Kentucky Derby party food at a historic farm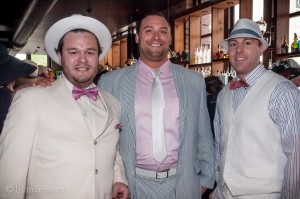 The Kentucky Derby is about the horses that run in the race. With that in mind, a grand place to have a party for the first Saturday in May is at a farm. Located in Boone County Kentucky, the Dinsmore farm mansion will be hosting a party for Kentucky Derby fans. It will feature popular food served at Churchill Downs and live music from Ricky Nye. As a 19th to 20th century historically preserved homestead, it will create unique memories for horse racing fans that they will always treasure.
First Annual BBQ Kentucky Derby solidarity
For many outsiders, the first thing they think of when someone says Churchill Downs is barbecue. If you attend a race in person or visit Churchill Downs, you will likely be served an array of dishes that include Kentucky-style barbecue. Sometimes called pulled pork, the sauce that is used with Churchill Downs barbecue is also a Kentucky classic. Showing some solidarity, the Oaklawn Racetrack in Hot Springs, Arkansas will have the First Annual Smokelawn BBQ Championship in honor of the 139 Kentucky Derby.