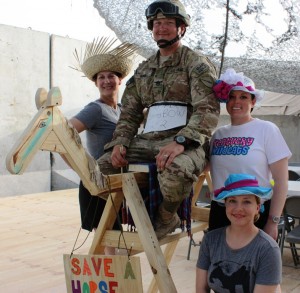 There are plenty of serious bettors in the world that invest thousands of dollars in Kentucky Derby wagering each year. However, what if you want to use $100 and randomly choose a winner? After all, part of the thrill of betting is being surprised when you actually win. Instead of doing your homework with handicapping, you can take your chances with these 11 funny ways to pick a Kentucky Derby winner at random.
1. The gray mare always wins
Most Thoroughbreds that run in the Kentucky Derby are a standard chestnut brown color. Despite this, a few are white or gray. In betting lore, it is generally stated that the grey horse is most likely to win. You can test this theory for yourself by picking the lightest colored horse as the winner.
2. The horse has your favorite number
When it is time for the big race, each horse gets a number to wear based on where they will exit the starting gate. If you have a lucky number, this can be one of the easiest ways to randomly select a horse for your bet.
3. Pick the horse that represents your state
Most people assume that Thoroughbred horses are born and raised in the Bluegrass State, but this is not necessarily true. For this reason, if you have you heard a little bit of the history of a horse and learn that it is tied to the state that you live in, you can show some solidarity by betting on it.
4. Choose the color of the jockey silks
Everyone has a favorite color, and Kentucky Derby jockeys give you plenty of chances to have your colors represented. If you find the colors to be particularly lucky, do not hesitate to place a bet on a horse based on the jockey silks.
5. The horse has family you respect
Breeders take exceptional care to ensure that Thoroughbreds have at least one Kentucky Derby winner in their family history. By checking the pedigree of a Kentucky Derby contender, you can find a horse to bet on based on their family tree.
6. There is something about the name that you like
Picking a name for a horse is difficult because the registering agency requires each name to be unique. After four hundred years of naming racehorses, it is next to impossible for a breeder to assign anything but unusual names. For this reason, if there is something about the name that appeals to you, this could be the premonition you need to bet on this particular horse.
7. The jockey is going to set a record
There are many aspects of horse racing to enjoy, and the records set by the jockeys are a good reason to place a bet on them. For instance, African American jockeys once dominated the sport, and 2013 is the first year that one will be represented in the race in several decades.
8. This year, you decide to pick the long shot
Amateur bettors tend to focus on the favorites because they are the most likely to win. Nevertheless, recent Kentucky Derby winners prove that sometimes it is the long shot that takes the trophy. This means that you should not be ashamed of spending a few dollars on the horse that is least likely to win.
9. Your gut instinct says to avoid the favorite
All of the news agencies are speculating that horse number five will win the 2013 Kentucky Derby. Regardless, you have a nagging feeling that says that horse number three will be the actual winner. In this case, you can always bet on everyone's favorite and still set aside money to place a bet on the horse your gut tells you to wager on.
10. Find a lucky pick expert
Do you have a neighbor or co-worker that always seems to pick the Kentucky Derby winner each year? Knowing someone that has a winning streak is a good enough reason to put your money where their mouth is.
11. Lock in all of your favorites with a Trifecta box
If you still cannot decide which horse is going to win and which place it will win in, you can save yourself some stress with a Trifecta or superfecta box. A straightforward Trifecta means that you buy a ticket that says certain horses will win in a specified order. By buying the box option, you will be able to place a bet on three horses, and it does not matter which order they win in. If you have more than three horses in mind, you can get the superfecta box instead.
Of course, if you want to do more than randomly select and horse to win, we have the tools at DerbyBetting.org to help you get the best results. To see some of the updates from this year's Kentucky Derby, check out our blog.