Placing a good bet on the Kentucky Derby means doing your homework. In order to get the widest range of handicapping tools, sometimes you need a few weird facts to help you make your final decisions. Now that the contenders list for the 2013 Kentucky Derby is starting to shape up, it is the perfect time to start digging around for a few skeletons in these horse's closets. After doing thorough research of the news produced about top contenders, our writers have produced odd facts that may help you place your most profitable Kentucky Derby bet.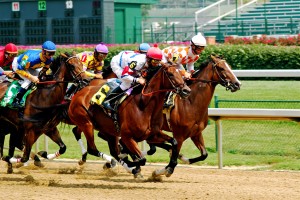 1.) Top earner is not top horse
Before 2012, the way that a horse was selected for the Kentucky Derby depended on their purse winnings. This year, the top 20 contenders are selected based upon how many points they earned in the prep race season. So far, Orb and Verrazano are the horses with the most points, but not the most purse earnings. Using last year's system, the weird fact of the matter is that Lines Of Battle would have been the center of attention. Instead, this top earner is in seventh place with 100 points.
2.) Small farms' big chance
Most of the contenders list for the 2013 Kentucky Derby is focused on a few famous farms and trainers. One exception is the top contender Orb. Hailing from a small town in California, the owners of this horse are hoping to put their stables on the map.
3.) Does Frac relate to fracking?
Americans are deeply concerned by a process that uses water to mine for oil and other forms of energy. Called "fracking," some spectators are worried that the horse Frac Daddy is named after this environmentally damaging process. Instead, horses are usually named after other winners. In this case, Frac Daddy is named for his father, Scat Daddy. The Frac part of his name is most likely a way to honor the great racehorse Fric Frac.
4.) Top earning female jockey
After Shanghai Bobby was taken out of the contenders list due to an injury, his jockey had to find another horse to meet her goal. Rosie Napravnik stands to beat a record that has been unbroken by a female jockey for 20 years. If she wins the Kentucky Derby on Mylute, Napravnik will hold the all time record for the most purse winnings for a single season.
5.) Mylute and Governor Charlie connected
There have been criticisms over the past decades about Thoroughbreds being inbred. While this is somewhat controversial, there are family connections in the 2013 Kentucky Derby contenders list. In particular, Mylute and Governor Charlie are half-brothers. Their common sire is Midnight Lute.
6.) Vyjack's success surprises owner
In an interview with Vyjack's owner, David Wilkenfeld, journalist Amanda Duckworth reveals surprising news. Mainly, the gelding's rise to the top of the 2013 Kentucky Derby contenders list was never expected. Instead, Willkenfeld bought this horse for $45,000 at a two-year old sale without really expecting Vyjack to be much of a success. However, now that Vyjack is winning races, Willkenfeld is preparing to accept a new title, "winning Kentucky Derby horse owner."
7.) Verrazano could be one of the slowest winners ever
One of the side-wagers that show up with exchange betting each year is for the beating the Kentucky Derby record time of 1:59.40. Achieved by Secretariat in 1973, few have come close since. Interestingly, multiple news sources have cited this year's crop of three year olds as the slowest on record. The slowest winning of the Kentucky Derby was in 1891 at 2:52.25.
8.) Revolutionary kept in the cold
There has been a lot of focus on trainer, Todd Pletcher, because he has at least five horses in the Kentucky Derby contenders list and four horses in the Kentucky Oaks. While he has a lot of strategies, one is considered a little bit odd. In particular, news sources state that Pletcher decided to keep the horse, Revolutionary, in New York over the winter instead of Florida. So far, it appears that his technique is working.
9.) Is this horse a long shot?
The payouts for a long shot are always worth the investment, and it looks like this year's candidate is Super Ninety Nine. The main issue is that this horse has underperformed and was scratched from key events such as the 2012 Breeders' Cup Juvenile Sprint. Nevertheless, his positive performances in recent races has left many experts speculators mystified. In other words, keep your eye on Super Ninety Nine.
10.) Charming Kitten is waiting for a scratch
Owners were hesitant to assign a jockey to Charming Kitten because he was stuck in twentieth place on the 2013 Kentucky Derby contenders list with four other horses. Now, less than two weeks before the race, Charming Kitten is on standby at 21st place. He will only run in the race if another horse is scratched and the jockey will be determined at that time.