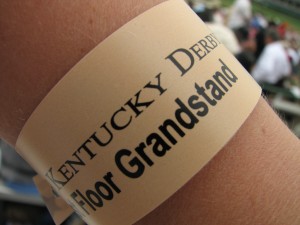 The day of the Kentucky Derby, you make sure to take your sunscreen, hat, and betting money to the big race. However, you soon discover that you have left your tickets at home in another city. Before you panic and abandon the race altogether, keep in mind that every person that wants to go to the Kentucky Derby is admitted. If you are curious about how this works, keep reading.
How do my fraudulent tickets still work?
Some people are so excited to get tickets to the Kentucky Derby that they end up getting scammed. This often happens when someone uses a third party to purchase tickets. For example, purchasing Kentucky Derby tickets from a website with a credit card buys you some insurance. On the other hand, purchasing a 2013 Kentucky Derby ticket from Craigslist can help you end up with a fake ticket. Regardless, if you show up to the gates of Churchill Downs and they throw away your ticket, there is still hope.
Churchill Downs still has tickets with seats?
A week before the 2013 Kentucky Derby, the official Churchill Downs website stated they had tickets for sale. While you may not see celebrities in Section 110, you will have a chance to sit down. If you buy their $550 ticket package, you will get food, drinks, and a little bit of shade. Nonetheless, there is a chance that you will miss out on tickets to this area, but it does not mean you are out of options yet.
An unlimited supply of Kentucky Derby tickets
This year, you gathered all of your friends together to go see the Kentucky Derby. Before leaving the hotel, you put the tickets in your bag and start to walk all the way to Churchill Downs. Unfortunately, when you get to the gate, you notice that you have been pick-pocketed. Without your tickets, is there a chance that you can get inside and still enjoy the festivities? While you may not have your tickets instantly replaced, you can still pay to get in to the Infield. It only costs $50 for admission, and they have plenty of room for thousands of people. Moreover, this area is a unique party space in and of itself that you will not regret being a part of.
When all else fails, you can still place a bet
Sometimes, it is difficult to admit defeat and still have a good time. If you made it all the way to Louisville but do not get good tickets, you can still show up at Churchill Downs to take a few tourist pictures. In addition to placing a bet there, you can take advantage of all of the online Kentucky Derby betting bonuses from the comfort of your smartphone.