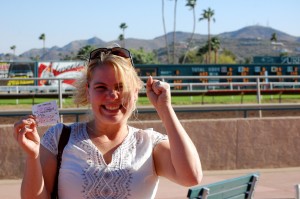 Are you getting ready for trifecta betting?  Moving up from the basic wagers into exotic wagers is always an exciting step for those in the process of learning how to bet on horses. The trifecta may seem simple at first but it has many twists and turns that can improve your chances of winning. With a little bit of background history, you will be on your way to mastering this important form of wagering.
Beginners moving up to trifecta betting
When bettors are first getting started with horse wagers, they will soon learn the advantages of placing their money on something more exotic. Even if you are at the win, place, and show levels, it is easy to move up to the initial exotic bets right away.
The advantages of trifecta betting are obvious when it comes to increasing your chances of winning more money. Despite this, you may not have the skills to ensure that you are able to predict three winning horses at the same time. Simply put, a trifecta is a bet that predicts the first, second, and third place winners of a single horse race.
Trifecta betting is worth looking into
At first it can seem like there is not much of a difference between one kind of wager and another. In this case, nothing could be further from the truth. The real contrast between the trifecta and the exacta become crystal-clear when you look at the payouts. For example, a $2 trifecta for the 2011 Kentucky Derby brought in $3,952.40 compared to a $2 exacta bringing in $329.80. Obviously, it pays to spend the extra $2 to take your chances with a serious win.
When trifecta bets are the best choice
For many beginners, there is a feeling of needing to cover all of your bases. In other words, when your skills are not refined, you want to look for all way to win and that means spending a little bit of extra money wisely.
For the Kentucky Derby, a winning strategy can be to buy a $2 ticket with different styles of wagers. This means buying a win, place, show, quinella, exacta, trifecta, and superfecta. In addition, you can purchase the more advanced boxes options.
Deciding between trifecta wheels and boxes
In the 2011 Kentucky Derby, Animal Kingdom (#16), Nehro (#19) and Mucho Macho Man (#13) finished the race in that order. Anyone that decided that Animal Kingdom would win and only placed $1 on this horse got $43.80 for their predictions.
Unfortunately, what if you cannot decide which of your top three horses will win?  If you have an idea for the three finishers of a race and just do not foresee the order, you can spend a little bit of extra money buying a trifecta box ticket. This way, you have all the variables covered in first, second, and third place for your top three horses.
Using trifecta betting box as a safety zone
Trifecta boxes mean you will spend more money, but having all of your bases covered is something a newcomer to horse racing must deal with. Until you learn more about handicapping and predicting outcomes, trifecta boxes may be your safety zone. On the other hand, new horse bettors will need to figure out if trifecta wheels are right for them. This style of wager has a "key" and then two other horses that are boxed.
For example, you know that Animal Kingdom will win the Kentucky Derby, but are not sure if Nehro will be in third or second place. You also have a good feeling about Mucho Macho Man. For these reasons, you can purchase the exacta wheel with Animal Kingdom as the key and Nehro and Mucho Macho Man as the wheel. This saves you a little bit of money, but with that is the risk that Animal Kingdom might not place first.
Where to purchase trifecta betting tickets
The world of horse betting has gone through a lot of changes since the first Kentucky Derby in 1875. In the beginning, the horse betting systems were outside of the law — causing them to fall prey to the mafia. However, starting in the 1930s, this problem was remedied by the introduction of pari-mutuel betting.
Today, you can place your trifecta bet at the track where the race is being held. Also, there are other places online that will ensure you get a higher return on your payout.
Getting the highest trifecta payout possible
When it comes to pari-mutuel betting, it can seem like a limitation. After all, the government limits gambling with horses to this style. Since all of the bettors are betting against each other and contributing to a pool of money, it can seem like the race tracks get the shaft.
The mystery behind how this system works involves a takeout from the payout. That means that every time someone wins, the track is allowed to take a cut of those earnings. This way, they cover their expenses.
Regardless, when there is no overhead, the payout is much higher for the bettors. For this reason, many expert trifecta wagers are played online at virtual horse betting websites.