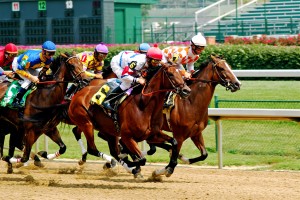 As a writer for Kentucky Derby.org, I take my Kentucky Derby picks seriously. Since I was a child growing up in Western Kentucky in the 1980s, I have shared the Kentucky Derby weekend with my birthday. Unfortunately, I have developed a lifelong habit of choosing my favorite horse for the Kentucky Derby based on a long list of sympathies that I developed by reading in Louisville's daily Courier-Journal horse racing column. After years of doing research writing about horse racing, betting, and the Kentucky Derby, it is time for me to put my money where my mouth is.
For the 139th Kentucky Derby, I have developed a strategy for my bets that will hopefully allow me to show off my handicapping skills to others. Will my investment pay off? We will find out after the Kentucky Derby is run on May 4, 2013. If I hit it big, I will keep you posted about how I spend my money for my 36th birthday on May 5th. Fingers crossed, I will eat my betting victorious birthday dinner at the finest restaurant in Louisville.
Last years betting payouts affect this year's strategy
The 2012 Kentucky Derby betting payouts were tremendous outside of your typical win, place, and show bets. This definitely made me think that I needed to diversify the way I split up the $50 I had to bet on the race. For example, the $1 Daily Double paid out $408.80 and the $1 Pick Three paid out $1648.70. Instead of betting on a few different favorites in several different ways, I am going to try my chances with as many horses as possible. This means I will be randomly selecting some of my 2013 Kentucky Derby picks based on a lot of different hunches.
My methods of the handicapping the 2013 Kentucky Derby
Figuring out which horses will win the Kentucky Derby is never easy. Many people will look at the morning workout videos or watch past races where horses are running on similar track conditions. Other people will say that watching races where the horses have raced against each other before is the best way to prove the Kentucky Derby winner.
However, I tend to notice that Kentucky Derby winners are clever. In particular, a video emerged last year before the Kentucky Derby with I'll Have Another playing with his owner. She is in a motorized wheelchair, and he is picking up her newspaper like they are old friends. For this reason, I am looking at Revolutionary as my 2013 Kentucky Derby favorite to win.
My love for Revolutionary emerged when I was watching a video of him getting a bath. He seemed to love being handled by groomers and did not fidget like the other horses. He also recently won the Louisiana Derby with most of the current contenders for the 2013 Kentucky Derby. He might not be everyone's favorite, but I am definitely going to include him in some of my exotic bets.
My final betting strategy for the 139th Kentucky Derby
I feel like that having multiple strategies, and multiple bets ensure that you eventually win something. For example, I am definitely going to place a few dollars down on Kentucky Attorney General Jack Conway's 2013 Kentucky Derby pick, Normandy Invasion. I think he will come in the top three, but I am not sure which order, so I will bet for him to win, place, or show to cover all of the top three options. I am also going to make a win, place, or show bet for each of the long shots: Golden Soul, Charming Kitten, and Oxbow. Long shots easily payout enough to make them a good part of a solid betting strategy.
<< Bet the Kentucky Derby Online Today! >>
Exotic wagering for the 2013 Kentucky Derby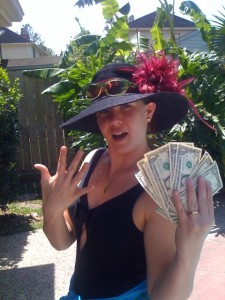 One final area that I will need to cover in order to have a profitable betting strategy is to include a few exotic wagers. Although there is a lot of advice presented about the perfect picks, I always end up going with a hunch for exotic betting. Since I give myself a gambling limit, I randomly select some horses and leave the rest up to the universe.
Nevertheless, I am pretty sure this is going to be my betting card for the 139 Kentucky Derby on May 4, 2013:
$3 WPS: Charming Kitten, Golden Soul, Oxbow, Normandy Invasion, Orb, Revolutionary, Mylute
$1 Pick Three: Orb, Revolutionary, Normandy Invasion
$1 Daily Double: Normandy Invasion, Orb
$1 Daily Double: Orb, Revolutionary
$1 Daily Double: Normandy Invasion, Orb
$1 Superfecta: Charming Kitten, Orb, Revolutionary, Normandy Invasion
$1 Superfecta: Mylute, Orb, Normandy Invasion, Charming Kitten