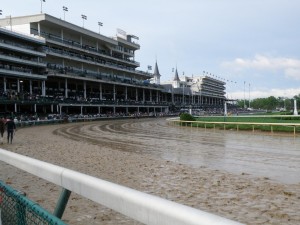 Trying to figure out which horse will win the 2013 Kentucky Derby can be difficult because of the surface conditions of the track at Churchill Downs. Unlike other racecourses, the Kentucky Derby is raced on turf. This means that the weather can seriously affect the outcome of the race. Now that the Kentucky Derby is less than 24 hours away, the real question for bettors is whether or not rain is going to affect the way the horses run on May 4, 2013.

Weather in Louisville, Kentucky on May 3, 2013
DerbyBetting.org is proud to have writers living next to Churchill Downs. Despite what the meteorologists online may say, our writers can record the weather by looking out their window. At 10pm, the day before the 2013 Kentucky Derby, the weather was a stormy. There was a light rain with lightning and thunder starting at around 6:30pm and lasting until 8pm. While this storm is predicted to clear up over the next 12 hours, it does mean that the track will be muddy at Churchill Downs.
Will bad weather cancel the 2013 Kentucky Derby?
While it is certainly not advise to stand in the middle of the Infield during a lightning storm, bad weather has never canceled a Kentucky Derby in the past 14 decades. The post time is in the early evening at 6:24pm. Naturally, the time for the Kentucky Derby can change if they suspect that there will be bad weather later on.
Will the Churchill Downs track be too wet to run on?
No one wants to see the horses suffer, and a wet turf track can seem scary to new horse racing fans. Thankfully, Churchill Downs works rapidly to get the track in working condition before horses are allowed to run on it. Over the years, they have developed several techniques that drain water away from a muddy track and have extra dirt to throw down on top of any wet spots. While any extra moisture on the track might affect the way a horse runs, clearing up the water will certainly hinder any serious injuries.
Will Kentucky Derby cancellations be announced?
Despite the fact that it has never happened before, there is always a chance that the Kentucky Derby will need to be canceled. If this is the case, you can save yourself some stress by checking in with the @DerbyMedia Twitter account. You will not learn of all of the important betting updates at this Twitter address, but you will know if the weather is going to affect your 2013 Kentucky Derby bet.