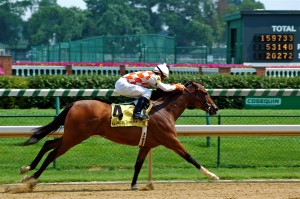 Are you getting ready to place your bet on the Kentucky Derby? Now that the official odds and favorites have been announced, logging onto your online wagering to place money on your favorite horse is permitted. Before you make your final selection, take a look at relevant news headlines that have emerged in the past week before the 2013 Kentucky Derby.
The 2013 Kentucky Derby long shot emerges
In the past week, two horses have the dropped out of the contenders list. Replacing them are two horses that no one thought would get a chance to run in the Derby. In twentieth place on the 2013 Kentucky Derby contenders list is Fear The Kitten. Regardless, the official oddsmaker of Churchill Downs has listed Giant Finish as the long shot.
The official top favorite: Orb
Along with other horses, the official Churchill Downs oddsmaker listed Orb as his top favorite. Sadly, this horse has a little bit of bad luck because it will be from the first post position. Turf writer Jerry Bossert from the New York Daily News states that a horse has not won from the first post position in the Kentucky Derby since 1986.
Pitino Triple Crown?
Louisville Cardinals basketball coach, Rick Pitino, has been a Bluegrass State favorite for the past three decades. He has coached both of the major university teams in Kentucky to NCAA victory and has multiple awards to boot. Over the past few months, he has been awarded as an NCAA Champ and Hall of Famer. Now, it is speculated by many that Pitino could earn a 2013 "Triple Crown" for his Kentucky Derby contender Goldencents. However, this is not necessarily a sure bet since Goldencents' trainer, Shug McGaughey, has never won a Kentucky Derby. With a Todd Pletcher-dominated field for 2013, we will see if Pitino knows good horse talent when he sees it.
Is Palace Malice in the top?
Each turf writer at a major media outlet in America is posting an article to defend their top Kentucky Derby picks. Since you cannot pick the top favorite and cover it repeatedly, each horse gets a chance to shine. For this reason, do not lose your nerve if you have already picked a horse you like for the 2013 Derby that is based on solid research. On the other hand, if you find an author that has a good argument, it cannot hurt to put a couple of dollars down simply based on a hunch.