One of the biggest baby and child-friendly happenings of the Kentucky Derby Festival is the balloon events. Sponsored by U.S. Bank, there are five ways to celebrate spread out over three days. This year the 2013 Great Balloon Fest will be held from April 25 to 27. While it seems very straightforward, the truth is that many tourists get lost because they forget the times and which location they need to be. To avoid those issues, we have compiled the essential information below. With a little bit of insight, you will have your facts straight, and you can use this article to see all of the action that the 2013 Kentucky Derby Balloon Fest has to offer.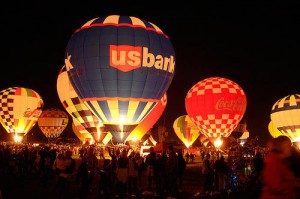 Did you get a Pegasus Pin?
In order to attend any of the Great Balloon Festival events, you will need to have a Pegasus Pin. This pin helps pay for events related to the Kentucky Derby Festival and is the only ticket you will need at the Balloon Fest sites. If you are a tourist, you may not be aware that corporate grocery stores and gas stations in Louisville are the place that you can buy the pins for $5 each. Parents will need to wear a Pegasus Pin for each child present. Although there are often Pegasus Pins available at the gate, you do not want to be caught in a situation where they have sold out for the night.
Balloons, Music, and the Waterfront
The first to events of the Balloon Fest will be held at Waterfront Park on April 25. One event begins at 5:00 PM and the other is at 8:30 PM. However, these dates are not concurrent with the Chow Wagon. In other words, you will not be able to expect to eat Chow Wagon food when you watch the balloons at Waterfront Park. Nevertheless, Kroger's Fest-A-Ville will be sponsoring entertainment during the Waterfront Balloon Festival events.
2013 Balloon Fest schedule of events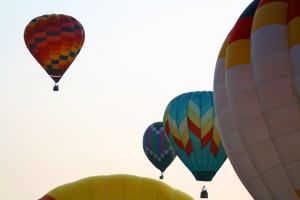 One of the most important things to remember is that the Balloon Festival will be held in three different locations. Another thing that is confusing is that the times can vary drastically. For these reasons, be sure to recheck your information carefully before you drive all over town.
To stay organized, the complete 2013 Great Balloon Fest schedule is listed below. For more information or a last minute changes due to the weather, check with the Kentucky Derby Festival website.
Schedule for the 2013 US Bank Great Balloon Festival:
Thursday, April 25, 5 PM, Waterfront Park: Crew Challenge with Kroger's Fest-A-Ville
Thursday, April 25, 8:30 PM, Waterfront Park: Great Balloon Glimmer with Kroger's Fest-a-Ville
Friday, April 26, 7 AM Bowman Field: Great Balloon Rush-Hour Race
Friday, April 26, 6 PM, Kentucky Exposition Center: Great Balloon Glow (Note: $8 KEC parking fee)
Saturday, April 27, 7 AM, Bowman Field: Great Balloon Race