There are only two more weeks left until the Kentucky Derby 139 begins. With all of the excitement in the air, changes are happening rapidly. With that in mind, we have rounded up five of the most pertinent updates for bettors in the news over the past week.
Trainer could have five horses in Kentucky Derby contender's list
The contenders list for the 2013 Kentucky Derby is not set in stone yet. However, it is obvious that trainer Todd Pletcher is going to have up to five horses running in the Kentucky Derby. That is quite an achievement and the New York Daily News reports he will also have four horses in the 2013 Kentucky Oaks. With nine horses racing over two days, it is clear that he is likely to capture first place for the 2013 Kentucky Derby and 2013 Kentucky Oaks.
Verrazano arrives at Churchill Downs
When you want your horse to win a big race, you take them to the track early and allow them to get to know the place. If you were thinking of placing a bet on Verrazano, the good news is that this horse is already practicing at Churchill Downs. This is also one of Todd Pletcher's horses. So far, Pletcher reports that Verrazano is doing well with racing on the track at Churchill Downs. It is also important to note that the weather in Louisville has alternated between hot and cold with a few days of wet and muddy conditions during those training times.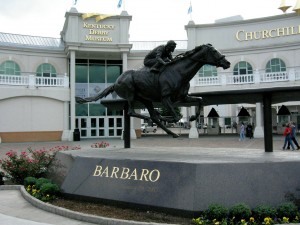 Shanghai Bobby's jockey now with Mylute
Many bettors are mourning the loss of Shanghai Bobby from the 2013 Kentucky Derby contenders list. Jockey Rosie Napravnik was hoping to ride him in the Kentucky Derby, but has now announced that she will be riding contender Mylute instead. At the Kentucky Derby, Napravnik will also stand to break a 20-year record for most purse money earned by a female jockey in a single year.
Winning Louisville Cardinals coach has Kentucky Derby contender
The Louisville Cardinals have been in the news over the past months for their 2012-2013 NCAA win. Leading the team is famed basketball coach Rick Pitino who has led teams to the NCAA wins for the Kentucky Wildcats and University of Louisville Cardinals. Obviously, Pitino is a basketball coaching genius, and he has been the owner of several top horses in the past decades. For the 2013 Kentucky Derby, Rick Pitino is the owner of contender Goldencents. Because everyone loves Pitino in Kentucky, Goldencents will likely be a horse that every novice gambler bets on this year.
New playoffs system draws criticism
There has been a lot of anxiety about the new Kentucky Derby points system that was put into place at the start of the prep season in September 2012. Originally, Churchill Downs officials were trying to give new horse racing fans an easier system to understand. In the past, contenders were chosen by how much money they had accumulated throughout the prep season with their purse winnings. Now, if a horse wins a certain predetermined race, they will get points. It is certainly easier to add up points than remember the dollar amount that each horse won at a different race.
Nevertheless, critics of the new system say the main problem is that bettors are still bewildered about how to place a bet on the Kentucky Derby. Obviously, we solve that problem easily at DerbyBetting.org and give bettors an opportunity to learn how to place a bet and sign up for a new account.