Are you looking to have the hottest men's Kentucky Derby hat for 2013? Attendants of the Kentucky Derby are going to wear a hat for more than one reason. Mainly, fans of the past did not have the luxury of applying sunscreen and needed a little bit of protection for their delicate noses. After all, the Kentucky Derby is incorrectly called the fastest two minutes in sports because it is actually an outdoor event that lasts the whole day. Although styles have changed over the years, a fancy hat is always worn by male and female Kentucky Derby attendants. Thankfully, this year, it is easy to buy a men's hat that has as much grandeur as you want.
Classic men's Kentucky Derby hats of the past and present
The Track Philosopher blog did an excellent job of compiling photographs of the classic Kentucky Derby style men's hats. In the 2013 collection, the narrow and wide-brimmed Fedoras get a lot of mentions. Other current popular looks, according to this author, are the Straw Trilby Fedora, the flat cap, the Boater and the Panama hat. Naturally, if you want that to bring back classics found at the first Kentucky Derby, your main choices are the Bowler or Derby hat.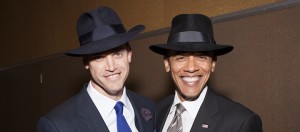 The Kentucky Derby 139 official hat
Did you know that the Kentucky Derby sells their very own men's hats each year? The Kentucky Derby Museum staff currently sells nine different hats, and a few of them have the Kentucky Derby 139 logo. Classic styles include the Montecristi Panama Hat, the Gambler Hat, and a number of straw hats. The most common colors for these hats are natural straw (beige) and cream-colored white.
Latest men's hats trends for 2013
While many men will go with a classic suit and hat that has a few touches of vibrant color, some men want to use the Kentucky Derby as an opportunity to wear haute couture. Thankfully, two style blogs have the right idea about classic Kentucky Derby sophisticated men's clothing and accessories. This year the Reluctant Milliner blog is focusing on the beret, "fitting cloche-style rain caps," and "classic British heritage with bowlers and smoking caps." Throwing in their own suggestions for men's hats trends for 2013, the Shoe Aristocrat Blog highly recommends the Pork Pie hat.
The perfect Kentucky Derby hat investment
When you are looking to invest serious money into a hat, you want to embrace many themes at once. Along with capturing a classic style, you will also want it to be slightly trendy to stay in vogue. Finally, you want it to fit your head perfectly and have the highest quality materials. In other words, you want to be able to be buried in this hat. During a time that most Americans are focusing more on ball caps and less on a hat that can uphold these high standards, there is one exception.
Hailing from San Francisco, Paul's Hat Shop is also online, but makes a point of showing up in person in Louisville before the Kentucky Derby begins. Commonly found in the NuLu District, Paul's milliners will construct a man's hat for any customer that is fit for a king. Without a doubt, these men's hats from Paul's SF are perfect for Millionaire's Row, your wedding, or any other event where you need to look refined.
Some styles of classic men's hats offered by Paul's San Francisco that are perfect for the 2013 Kentucky Derby are:
Optimo
Pork Pie
Bowler
Derby
Top Hat
Fedora