Are you looking for tickets to the 2013 Kentucky Derby? If you wait until the last minute, you will join the millions of people that have ended up with the worst seats at the Kentucky Derby or none at all. Over the past 135 years, ticket sales for the big Kentucky race have been a luxury that only a few are able to obtain. While the prices are high, they are also in high demand. For this reason, if you see a ticket to the Kentucky Derby, you need to strike while the iron is hot, and buy your Kentucky Derby ticket.

To understand which race seats are the best, you need to know where they are placed and details about the view, weather and ambience. One of our primary goals at DerbyBetting.org is to ensure that you get reasonably priced tickets in an area of the racetrack where you feel comfortable by better informing yourself. In order to stay in touch with our latest deals on 2013 Kentucky Derby tickets, be sure to bookmark our page and check back frequently.
Buy 2013 Kentucky Derby Tickets from:
Newly built Section 110 means more 2013 Kentucky Derby Tickets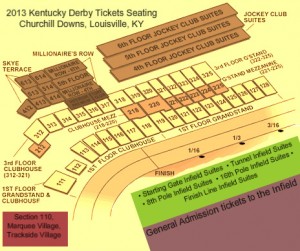 The 2012 Kentucky Derby was exciting for spectators since they installed several sheltered seating areas in the Infield. This dedication to providing more seating that includes weather coverage has been a priority of Churchill Downs' and the 2013 Kentucky Derby will see a continuation of this trend. The newest addition is Section 110 and it is located on the south end of the track where the first turn occurs. In racetrack terminology, this area is often referred to as the "clubhouse turn".
In the past, there was a two-story tent facility in this section called Trackside Village. The ticket prices for this area range from 700 to 800 dollars and a third of them will have overhead coverage. Like all Kentucky Derby Grandstand or Clubhouse seating, Section 110 will include restrooms, access to betting windows, gourmet food and freshly prepared Mint Juleps.
Kentucky Derby packages
The day before the Kentucky Derby is always reserved for the female horses (this is despite the fact that male and female horses can both run in the Kentucky Derby). Called the Kentucky Oaks, this ticket is sometimes sold as a package deal with the Kentucky Derby. Usually, the prices for the 2013 Oaks Day are lower than those for the Kentucky Derby. One problem with buying Kentucky Derby packages online is that people stop reading after the word "Kentucky". This means you could accidentally buy Kentucky Oaks tickets online instead of Kentucky Derby tickets.
Covered versus uncovered seating at the Kentucky Derby
The Kentucky Derby usually takes place during the spring – and that means rain. Anyone that spends hundreds of dollars on a Derby hat will want to take care to avoid getting seats that are open to the elements. For this reason, keep in mind that some of the seating around the track does not have coverage. While anyone can retreat into the Grandstand mezzanine if the weather grows dangerous, you do not pay much more for seats that have weather coverage.
Seats that have partial coverage include 312 to 325. No coverage (and low-cost) Kentucky Derby tickets in the Grandstand area are 119 CH, 119 to 128, and 110 to 113. Also, remember that some of the uncovered seating areas are bleachers instead of theater-style seating including: 119 to 128 and 221 to 225. If you think that is rough, consider that the cheapest tickets to the Kentucky Derby in the Infield have no seating at all, no coverage and lots of mud when it rains.
Buy 2013 Kentucky Derby Tickets from:
Other seating areas outside of the Grandstand will have covered and uncovered areas include:
• Marquee Village
• Trackside Village
• Starting Gate Infield Suites
• Tunnel Infield Suites
• 8th Pole Infield Suites
• 16th Pole Infield Suites
• Finish Line Infield Suites
Best seats are in Millionaires Row
If you want the absolute best seats in the house, be prepared to wear black tie attire for the exquisite Millionaire's Row, the Turf Club, Jockey Club Suites, Finish Line Suites, or the Interior Premium Boxes. Similar seating are tickets to the Fourth, Fifth and Sixth floors of Churchill Downs. The derby seats are placed in front of or near the finish line in a covered area of the Grandstand. You will be up above the crowd with places to bet, exclusive rooms to rest and dine in, gourmet food, drinks, and the wealthiest people in America. Of course, do not be surprised if you rub elbows with movie stars and their personal security guards when you are watching the Kentucky Derby from this $5,000 per ticket crown jewel location, which is well worth the investment to enjoy such as wonderful race and event.
The best in-between 2013 Kentucky Derby tickets
For most of us, we simply choose the best that we can afford. If you want to purchase something slightly more expensive than the Grandstand but less than the best seats at Churchill Downs, there are still plenty of options. The midrange seating for the derby includes the First Floor Clubhouse (312 to 321), Second Floor Clubhouse (212, 218, 220), and Third Floor Clubhouse (212, 218, and 220). The seats that are slightly lower in price are the Third Floor Grandstand (332 to 325), Second Floor Grandstand (221 to 225), and the First Floor Clubhouse (111 to 118).
Remember: No one is ever turned away on Derby Day
Perhaps you waited too long to purchase your Kentucky Derby tickets and now you are stuck with airline tickets to Louisville, Kentucky and no access to Churchill Downs. Regardless of this anxiety, the legend that states that no one is turned away from the gates of Churchill Downs on the day of the Kentucky Derby is absolutely true. Unfortunately, you will not be able to see the race with these bottom-rung tickets. You will have access to as many Mint Juleps as you want, but will be hanging out in a field with no chair and no cover. If you do not act quickly and purchase your 2013 Kentucky Derby tickets, your only access to the big day will be a $50 pass for the Infield. For this reason, buy your tickets to the Kentucky Derby now.