The Kentucky Derby is a fast and wild horse race; always guaranteed to entertain.  Betting on horses is something I have done fleetingly in my life, and since gambling isn't my forte, I haven't done very well at it.  I tend to go for the long shots; problem being, my long shot never wins.  This is not say that there have not been some major upsets where incredible long shots burst through the pack in their run for the roses; for that chance to briefly stand in the Winner's Circle.  The following, will be the 10 most amazing upsets in the history of the Kentucky Derby.
#10  Stone Street 1908
This horse may be in 10th place on the countdown but is certainly not too shabby at 23.7-1.  In 1908 Stone Street landed those who could afford a $2.00 bet (the most modest possible at the time) $49.40.  Remember now, this is back in 1908.  Those that could have afforded the outlandish $5.00 bet went home with a staggering $123.60.  They were practically rich. Unfortunately, this stakes win would be his first and last.  He would not go on to win another stakes race for the rest of his career.
#9 Thunder Gulch 1995
Thunder Gulch at odds of 24.5-1 thundered through the crowd to win the roses.  He took the race by a very convincing 2 ¼ lengths.  After coming in third in the Preakness his three year career ended when he was put out to stud (lucky boy).
#8 Dark Star 1953
In 1953, Dark Star was a shining star when he won the Kentucky Derby after posting 24.9-1 odds.  The Preakness was less exciting for him since he did not even place.  He, too, retired not long after.
#7 Exterminator 1918
1918 produced a gelding that would go on to win 50 of the 100 races he started.  At 29.6-1 Exterminator did just that.  He exterminated the rest of the track and would go on to enjoy a lengthy career; retiring at the ripe old age of nine years old.  What is that in human years?
#6 Proud Clarion 1967
There was much to be proud of in 1967 when Proud Clarion, 30-1, polished off the mile and ¼ track to go down in history not only as a Kentucky Derby winner, but a as one of the top 10 fastest Kentucky Derby win times.
#5 Charismatic 1999
Back in 1999 this fine specimen galloped to glory after being posted at 31.3-1 odds.  The horses luck continued when he won the Preakness.  But after placing third at Belmont his luck nearly ran out.  A broken leg after his third place finish stopped the horse "dead" in his tracks.  Charisma's luck would, however, continue thanks to his jockey Chris Antley; who held the horse's leg up until a vet could be summoned.  After surgery the next day the horse was doing well.  He recovered and was put out to stud at a stallion station. (Some guys have all the luck.)
#4 Gallhadion 2005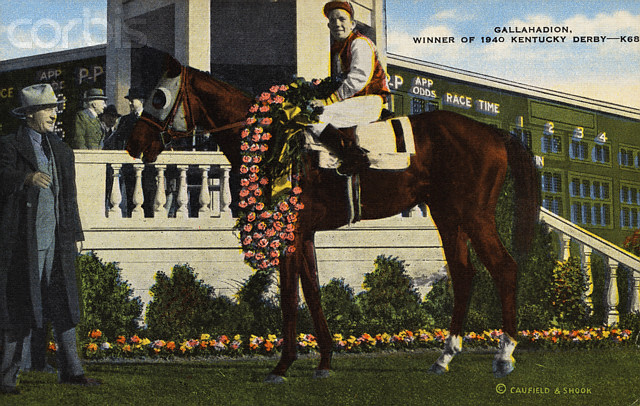 1940's winning long shot at 35.2-1 odds and paying $72.40 to win was Gallhadion.  And I would have more to say about this horse if I wasn't exhausted from trying to pronounce its name.
We're down to the wire, and the top three most amazing long shot wins in the history of the Kentucky Derby.
#3 Giacomo 2005
In third place on our list but first place in 2005, Giacomo came up the far outside to close in and win after posting 50.3-1 odds.
#2 Mine That Bird 2009
Mine That Bird is still spoken of today.  Not that it was all that long ago, 2009 to be exact, that this 50.6-1 long shot; after lagging behind for most of the race, burst through the pack (oddly enough on the far outside) to win the run for the roses and payout $102.60.
#1 Donnerail 1913
The most amazing, stunning, incredible winning long shot in the entire history of the Kentucky Derby?  Tune in next week…  Just kidding.
At absolutely unthinkable odds, 91.45 to 1, 1913's Donerail not only took the race but is the highest paying Kentucky Derby winner in history. 91-1!  Amazing.  Once again, we're talking 1913 here.  $5.00 was more likely than not an entire week's wages.  Anyone betting on that horse at 91 to 1 didn't have to lie about where they were that day.  Anyone winning with a 91 to 1 horse had to be proud to say "I was at the track".  History was being made before their very eyes, and they probably never knew it.